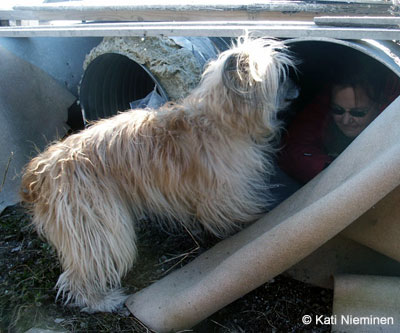 FIN & S CH SW-00 JW-W-00


Yliack de la Tuile au Loup


(FIN CH BW-02 Vagabond de la Tuile au Loup B/C x Harissa du Grand Bestiolan)

LOSH0856388 ER36908/00 C

born 3.11.1999

breeder: Giannone-Marzola Salvatore, Belgium


Terveystulokset - Health results - Résultats de santé
Knees
Polvilausunto 22.11.04, Mari Oksanen
Certificate of knee joints 22.11.04,
Mari Oksanen
Lausunto Putnam asteikon mukaan: vasen 0, oikea 0
Koiran molemmat polvet ovat kliinisesti normaalit: KYLLÄ

Normaalit kivekset: KYLLÄ
Statement based on the Putnam grading system: left 0, right 0
Both knees of the dog are normal: YES

Normal testicles: YES
Eyes
Silmätarkastuslausunto 12.11.04,
Tarja Kolisoja
Certificate of eye examination 12.11.04,
Tarja Kolisoja
(method biomicroscopy, ophtalmoscopy/indirect)
Silmäpohja: 0
Mykiö: Vasemmassa silmässä linssin takakapselissa pigmenttipisteitä, PHTVL/PHPV 1° -tyyppinen löydös, oikeassa vähäisemmin
Luomet, sarveiskalvo, sädekehä, mahdollisia löydöksiä: 0

Ei osoita HC, PRA, RD sairauden oireita
Fundus: 0
Lens: Some pigment dots of PHTVL/PHPV 1° type in the back capsule of the left eye, less in the right eye
Eye lids, cornea, iris, eventual findings: 0

Does not show symptoms of HC, PRA, RD illness
HD & ED
Lausunto lonkkanivelistä ja kyynärpäistä 31.1.01, Annie Liman
Rtg-tutkimuksen suoritti 18.1.01 Iris Rastas
Certificate of HD-examination and elbows 31.1.01, Annie Liman
Radiographs taken by Iris Rastas 18.1.01
V 0 vasen kyynärnivel ei muutoksia
O 0 oikea kyynärnivel ei muutoksia

V C vasen lonkkanivel lievä dysplasia
O C oikea lonkkanivel lievä dysplasia
L 0 left elbow no changes
R 0 right elbow no changes

L C left hip mild dysplasia
R C right hip mild dysplasia
Näyttelyarvostelut - Show results - Résultats d'expos
Note: Results here since 17.4.04 when he became mine. Prior results see the Finnish Kennel Clubs Database.
Huom! Tässä arvostelut 17.4.04 alkaen, Wiltsun siirryttyä omistukseeni. Aiemmat tulokset kts. KoiraNet.
ER Kotka 2.9.07, Guido Massimello, Italia
VAL ERI, VAK 3
7 ans. Ex chien, bien typé. Ex tête, belle expression. Ex poil. Ex proportions du corps ideale. Ex angulation, belle encolure. B aplombs. Ex demarche, rase le tapis.
Kotka 19.6.05, Elena Ruskovaara
VAL ERI, VAK 1, PU 2
Leikattu korvainen 6-vuotias uros, jolla hyvät rungon mittasuhteet. Toivoisin (?) maskuliinisemman pään ja enemmän täytettä silmien alle. Tyypillinen terhakka ilme. Varsin etuasentoinen etuosa, hyvä etuosa, sekä takaosa. Erinomaiset tehokkaat liikkeet. Karvapeite saisi olla karheampi. Tyypillinen luonne.
Hamina 21.5.05, Marija Kavcic, Slovenia
VAL ERI, VAK 1, PU 1, VSP, CACIB
BOS, CACIB
5 years old. Good in type. Excellent size. Well shaped head with good proportion. Correct bite, excellent eyes, good neck. Correct body, long well angulated legs. Really excellent movement. Correct coat, nice temperament.
Voittaja 04 Hki Messukeskus 4.12.04,
Francisco Salvador Janeiro, Portugali
VAL ERI, VAK 2, PU 3
Good type. Good proportitions of head, paralell topline ends to stop. Good topline and group. Good angulations. Excellent movement.
Kouvola 28.8.04, Petru Munteau, Romania
VAL ERI, VAK 1, PU 1, ROP
BOB
4 yrs. old male in type. Good head with excellent expression. Correct bite. Excellent bodystructure. Good angl. Good coat & pigm. Outstanding in movement.